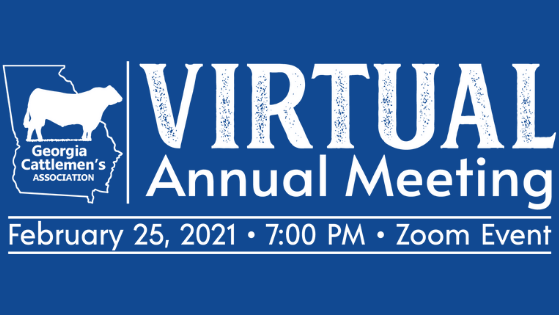 We are very excited to offer the 2021 GCA Virtual Annual Meeting to replace the GCA Annual Convention & Trade Show, which was cancelled due to COVID-19.
If you have any questions, please do not hesitate to reach out to us in the office at 478-474-6560

Broadcasting of the GCA Virtual Annual Meeting will take place on Facebook Live, find the link to our Facebook here.
There will be a Zoom Conference Call set up for CHAPTER DELEGATES ONLY, so that business may be conducted as normal. This information will be provided directly to chapter delegates.
WATCH LAST YEAR'S 2020 VIRTUAL ANNUAL MEETING
Award Presentations
I. CattleWoman of the Year
II. CattleWomen's Hall of Fame
III. Membership Awards
IV. Chapter Membership Award
V. Junior Cattleman of the Year
VI. Veterinarian of the Year
VII. Chapter of the Year
VIII. Extension Agent of the Year